OUR AUTHORIZED SERVICE WORKSHOPS
WHAT IS THE PROBLEM?
Inhaling micro organisms like e.g. Cladosporium, Penecillium, Aspergillus and Alternaria can cause Pneumonia, Tuberculosis, Diphtheria, Meningitis, Asthma attacks, allergic reactions and Whooping cough. This not only impacts the health, but also the safety of the driver / passenger and others.
When the AC System smells, the worst stage of contamination has already occured. A COOLING COIL & FILTER BOX cleaning is long time overdue. Just replacing the filter, masking the smell with air fresheners or trying ineffective products will not address the root cause of the problem.
An uncleaned cooling coil can accumulate dirt and grow more and more micro organisms in between the narrow cooling fins. As the air stream won't get in direct contact with the metal fins anymore, this negatively affects the cooling function of the AC. This could also higher the fuel consumption of the car.
A cooling coil that has never been cleaned may need to be replaced because of a complete choking. This process requires dismantling wide areas of the dashboard, takes a longer time and bears risks of scratches and "Cracking Sounds" after. The cost for a replacement can range up to around 10x of a professional COOLING COIL & FILTER BOX cleaning.
THE AWARD WINNING SOLUTION
"BASIC"
For all car brands / models (2 to 5 seaters)

360° Manual Deep Cleaning of POLLEN FILTER BOX with allergy friendly aircowell® hygienic cleaner.
INFO: Most workshops do not have a special cleaning product and don't clean the filter box at all. This way bacteria, mold, fungi and other micro organisms grow. During the regular filter replacement the new filters are normally placed in this contaminated filter box which contaminates the new filter within a short period of time. Therefore the cleaning of the Pollen Filter Box is absolutely essential.
- Duration ~ 20 to 25 Minutes
- Recommended 1 - 2 x per year
- No dismantling of dashboard
"ADVANCED"
For all car brands / models (2 to 5 seaters)

8 bar Manual Deep Cleaning of COOLING COIL with special pressure spray gun and allergy friendly aircowell® hygienic cleaner.
INFO: The main problems are the moist, narrow fins of the cooling coil, hidden deeply under the dashboard. This is where bacteria, mold, fungi and other micro organisms grow rapidly. This area mostly remains completely untouched and passengers and their families might unknowingly inhale months, if not years of debris.

+ SAVING DISCOUNT $10
- Duration ~ 30 to 40 Minutes
- Recommended 1 - 2 x per year
- No dismantling of dashboard
EXCELLENT CUSTOMER FEEDBACK
DEREK KER
Is very health conscious
"This goes directly to the cooling coil and cleans it up. This one is the real deal"
SUNIL S.
Expects transparency & professionalism
"The technicians are really great. We spend a lot of time in our cars and bacteria is an important topic. It's a very good feeling after the cleaning. This really is a good product."

C. CHONG
Had a smelly CAR AC before
"Met AIRCONCHAMP and tried their cleaning service with deep penetration washing of the cooling coil using their specialized products. Effect is great!"
XIPENG C.
Founder, Company
"I got the "ADVANCED" package and my cooling coil cleaned and disinfected, using top product from well known German brand airco well. Will recommend to my friends!"


CLARENCE CHEONG
Takes extra care of his car
"Now I feel the AC has been refreshed and there is no more foul smell"
FREDERICK LIM
Recently became father
"This gives me the piece of mind, that my baby is breathing clean air now"
TOBIAS ROLLE
Singapore Expat
"I'm very surprised. It goes inside to the cooling coil and therefore kills all the bacteria. Whereby other products just give you a nice smell, but don't kill bacteria"
JAMIE LIM
Has a deep technical knowledge
"Been looking for a practical solution to nip the foul smell problem at the butt (aircon coil). Goodbye foul smell (and car deodorizers), hello fresh air!"
COMPARISON OF AIRCON CLEANING METHODS
THE WINNER
- The only one cleaning method according to the German Hygiene Standard "VDI 6032"
- The only ECARF Allergy friendly 5 STAR certificated
- The only direct cleaning of Cooling Coil / Pollen Filter Box
- Applied with special performance tools (MADE IN GERMANY)
- Safe chemical (no health hazard & no surface changes) according to VDI 6032 and GUI LAB Germany
- Cleaning agents MADE IN GERMANY
- For all brands & car models
- OEM approved method
The Award Winner of
THE CAR AC CLEANING TEST.
Read the full test here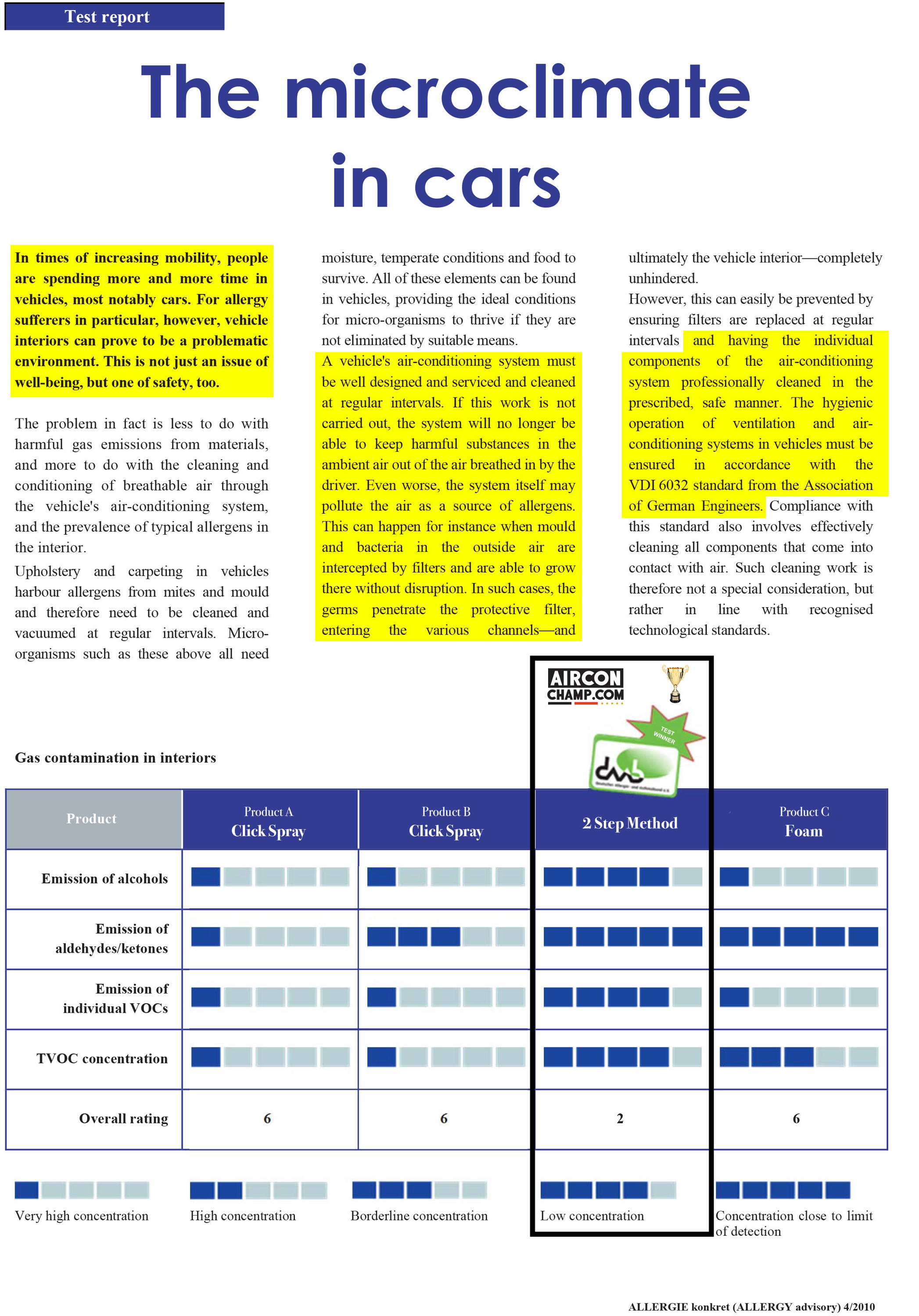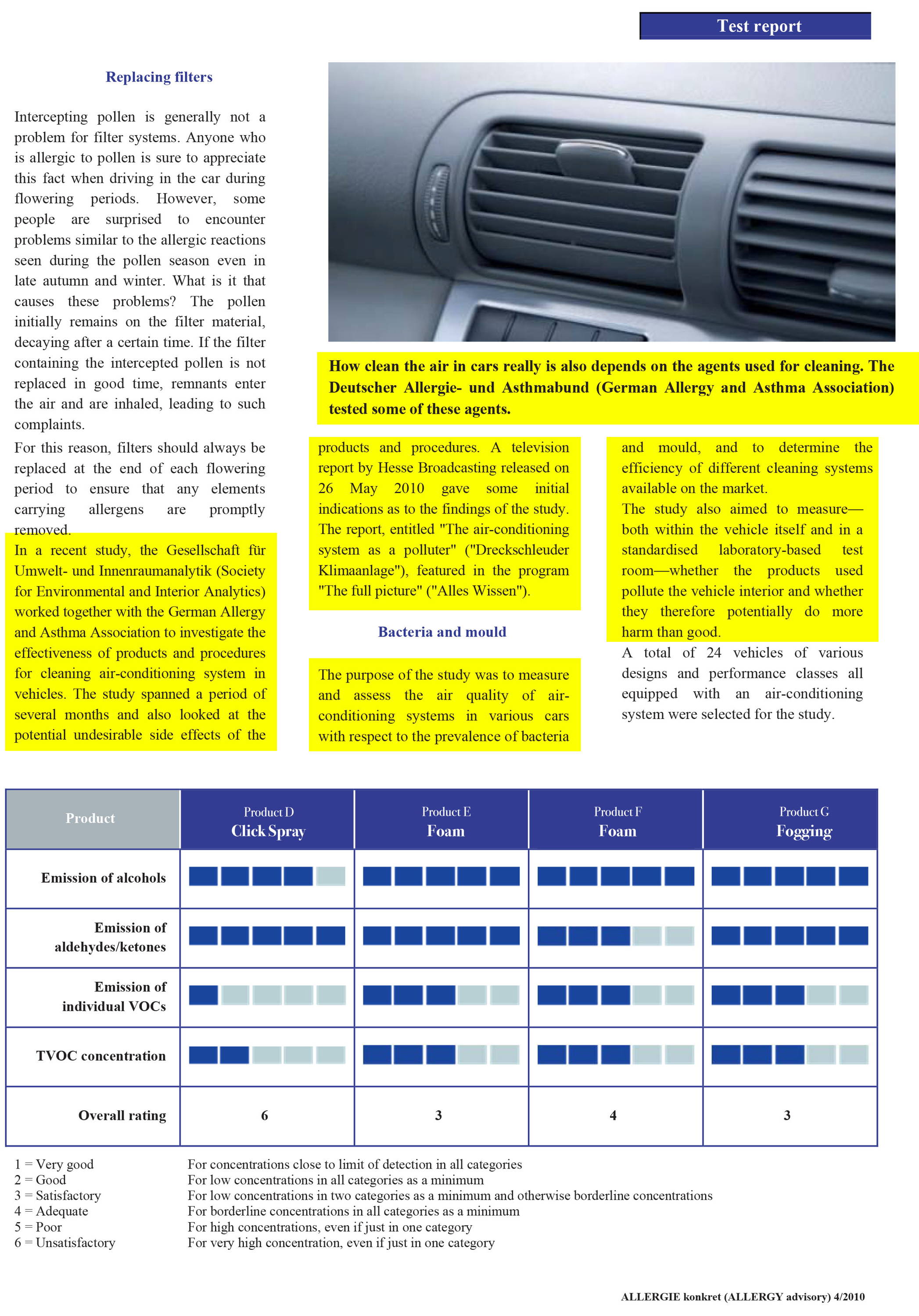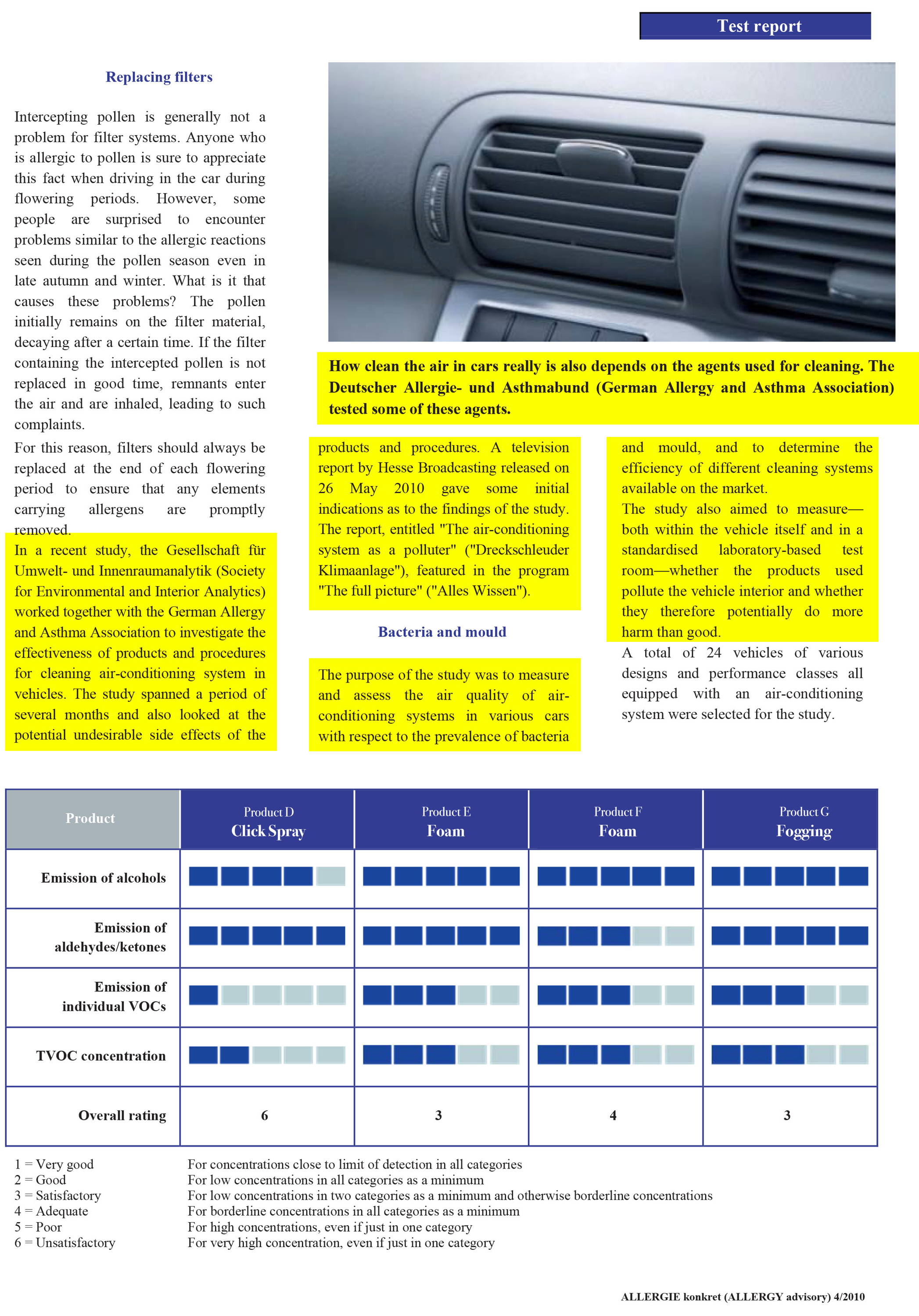 Which service package should I choose?
BASIC Package
- If a customer is more price sensitive
- Everytime a workshop recommends to replace the pollen filter
- If this aircon cleaning method has not been done before
ADVANCED Package
- If a customer feels, there is smell coming from the aircon
- If this aircon cleaning method has not been done before
CHAMPION Package
- If a customer feels, there is smell coming from the aircon
- If this aircon cleaning method has not been done before
- If the car aircon was treated with other products (foam, click sprays, perfumes, etc.)
If the car is very new (< 1 year), then we do not recommend a cleaning. It is only necessary to regularly start cleaning it after 1 year.
How does AIRCONCHAMP work?
Decide for a car aircon cleaning package and press "Book now"
Select in the drop down menus for the workshop location you want to bring your car to and if you want to engage our concierge service for car pick up and return.
Press "Book now"
Check if everything is correct and press "Checkout"
Fill in your contact information, billing address and press "Continue to payment"
Perform the payment
After the payment is done, you will receive an email confirmation and the workshop will call you within 24h to schedule an appointment for the car aircon cleaning with you.
On the date you bring your car for cleaning (please arrive latest 15 mins before the appointment time). If you booked the concierge service, our concierge partners from AutoApp will call you to schedule the pick up and return as well as the cleaning appointment.
Why do I have to clean my car aircon?
Because:
- Aircon cleaning at home is mostly mandatory. In the car it's not, even if the car aircon can be more polluted than the one at home.
- The regular filter replacement does not equal aircon cleaning. The filter normally only targets bigger particles like leaves etc. entering the aircon system from the street.
- The main problem zones, where bacteria, mold, fungi etc. grow, are the COOLING COIL and the FILTER BOX. Both normally remain untouched in a regular car servicing. In combination with moisture, dirt and humidity, the narrow spaces between the cooling fins provide an ideal breeding ground for these micro organisms. As a result, depending on the climate and the usage of the CAR AC, the health of passengers inside the car can be affected severely.
- If the cooling fins are blocked, the cooling function of the aircon can be reduced.
- If the cooling coil is completely blocked, no cleaning is possible anymore. Then the workshop needs to replace it, which can be very expensive.
Can I wait until the car smells before having the air conditioning system cleaned?
If bad smell comes from the ventilation, it's almost too late. Smell alone is no indicator for contamination load. Air conditioning systems, that don't smell can also be contaminated. A regular maintenance is necessary.
How often do I have to clean my car aircon?
Many providers in the market promise to clean the car aircon and charge extremely varying prices for this. The only method that has been proven to work in the long term is airco well®, which is a combination of flushing the cooling coil and cleaning the pollen filter box with tested and approved chemicals (MADE IN GERMANY). We recommend to clean the car aircon with airco well®  1-2x per year depending on the usage. If you have a new car, the regular yearly cleaning should be started no later then after 12 months.
What are the different ways to clean the car aircon?
Many workshops promise, that click sprays, foams, fogging, perfumes etc. would clean the aircon. Thorough testing / comparison of the methods clearly shows, that airco well® is the only method which really cleans comprehensively. It is also the most certified and tested product, as well as also cleans the filter box with a special agent (not only the cooling coil).
For which cars is the cleaning?
airco well® can be used on all car brands / models for regular 2 to 4 or 5 seater passenger cars. For multi seaters / vans / busses/ commercial vehicles etc. please contact us at contact@airconchamp.com and we see, how we can help you with our special technical team.
Do workshops normally always clean the car aircon?
No, in most cases a "regular Aircon Service" involves no more than a functional maintenance (topping up gas for the cooling function etc.). The hygienic cleaning has to be ordered separately.
Can I also get other services done at the same time when I bring my car for aircon cleaning?
Yes. When the workshop calls you for appointment, you can also inquire other services with them.
Is the cleaning process health friendly and does it discolor any interior?
The manufacturer underwent extensive testing regarding the method and product ingredients. It is the only car aircon cleaning following the highest international quality standard of the Hygiene Guideline of the German Association of Engineers "VDI - 6032". Some of the major requirements from this guideline are "Such substances and methods shall be used as do not involve health hazards for vehicle occupants and as do not cause surface changes". The tests and certifications were conducted jointly by the German gui - lab testing laboratory and VDI certified specialist engineers.
The result is fresh and clean air coming from the car aircon. airco well® hygienic cleaning does not use disinfectant and contains no fragrances that can trigger allergies.
Where can I have my car aircon cleaned?
You can find our authorized workshops on our website in the drop down menu at checkout.
When is the best time to clean my car aircon?
Cleaning your air conditioning system is practical at any time of year, as micro-organisms colonise the system throughout the year.
Can I clean my car air conditioning system myself?
No. Effective cleaning with the airco well® method requires a high level of technical knowledge about car air conditioning systems and can be done only with special tools; because of this, it is advised to book a cleaning with one of our authorized workshops.
What if a lot of debris stuck on the cooling coil?
If the cooling coil is partially cover with sticky debris (micro organisms, dirt, etc.), this can form a solid cover (similar to a coating) of the cooling coil. This can reduce leakage of cooling coils. If then a professional cleaning is done and removes the debris, there is a low percentage possibility, that the set free cooling coil leaks begin to unleash the leak. AIRCONCHAMP does neither take responsibility nor take over any arising (and related) cost from such an incident, as this is not due to the cleaning, but due to the bad condition of the cooling coil. Please bear this in mind for your decision weather your book our cooling coil cleaning or not. We seek for your kind understanding.